REACH BABY BOOMERS AND SENIORS – JOIN US!
Since 2006, Resort-Style Retirement has been a successful website for people researching retirement communities in Oregon. Now, as a national website, it is easy to reach baby boomers and seniors that are looking to live in a resort-style community. Do you want to promote your community or sell services or products to these website visitors? Then you will want to be featured on our website. We offer three basic options for exposure.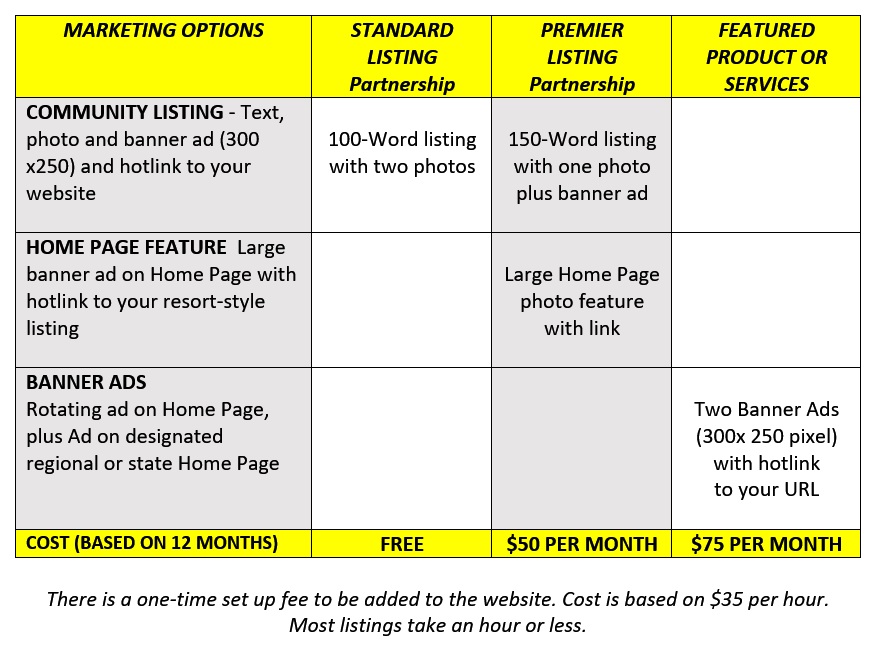 STEP ONE – COMPLETE THE APPLICATION FORM
For a community, please provide us with detailed information on your community for your listing. Make sure to send us two photos. Tell us if you want a standard or premier listing. Once we receive your information, our team will review your community to make sure it meets our resort-style standards and can be recommended to our audience. If we have questions, we will email you.
Click Here for Community Entry Form
For a business or product, simply email Mark@dennettgroup.com and we will provide advertising details.
STEP TWO – APPROVAL
For a community, our review and approval should be completed in less than two days. Once approved, we will email you with your acceptance and estimate the modest one-time set up fee for your listing(s).
STEP THREE – PAYMENT
For a community, once approved, you will be directed to complete the automatic billing form to cover any cost involved. Payment will be processed either from your credit card or PayPal account, your choice. Regardless of the partnership you selected (Standard or Premier), you can cancel at any time after the first year.
Do you have questions? Don't hesitate to contact us. Mark@dennettgroup.com
We look forward to you becoming a Resort-Style Retirement Community!